Allama Iqbal Open University AIOU Online Result 2018 of All Programs & Semesters
Allama Iqbal Open University is my own university as i am student of MSc in this great Alma Mater. This AIOU university is playing a great role in progress of Pakistan by educating the students of remote areas through distance learning. I feel pleasure in guiding the students of Allama Iqbal Open University. We have written lot of articles to guide the students of all distance learning universities of Pakistan. If you are student of this open university and looking for your AIOU result 2018, then we can now congratulate you on your great online search technique as now you have landed on the right page where Allama Iqbal Open University AIOU result 2018 for all classes and semesters is available. Now you do not need to visit any other website as we are here to provide you accurate and timely AIOU result 2018 for matric, inter, graduation, master, MPhil, Phd and diploma courses.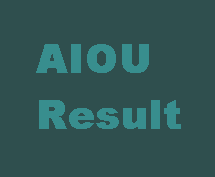 Allama Iqbal Open University AIOU Result 2018 of All Classes & Semesters
A link in bold letters has been given below this web post. Through this link you may get your current semester AIOU result 2018. You may also find semester wise detail of previous results.You may also download your web based provisional certificate. In short this link has a magic in it. It will provide you all your desired information about Allama Iqbal Open University result 2018. You just need to enter your roll number after clicking on your program.
After getting your AIOU result 2018 you may apply for admission in next semester. Allama Iqbal Open University will send you admission form for next semester. You just need to fill and submit it with the fee of next semester. If you have not still received the admission form for admission in next semester then you may download it from our website too. Remember that failure in 1 or 2 subjects is not a very big issue in Allama Iqbal Open University as you may get admission in next semester and take your exam of failed subject along the subjects of next semester, but remember that your final certificate, diploma or degree will be awarded on clearing all papers. You must give emphasis both on semester exams and assignments as your final success depends on the success in both these areas.
Click Here To View Your Allama Iqbal Open University AIOU Result 2018 of All Classes & Semesters