Shahbaz Sharif & BOP Apna Rozgar Scheme Second Draw Result 2015
You can view the BOP & CM Punjab Apna Rozgar scheme second lucky draw result 2015 on this page. Draw was conducted on 21st May, 2015 by MNA Mian Muhammad Hamza Shahbaz Sharif. Vehicles of first draw have been distributed among the successful candidates. Now result of second lucky draw has also been announced. Lucky draw was fully computerized that's why there is no chance of any corruption. Vehicles under BOP & CM Punjab Apna Rozgar scheme are being distributed on merit base only. After merit your luck counts a lot in this regard. Suzuki Bolan and Suzuki Ravi vehicles are available in this scheme. Further details about this program are also available on our website.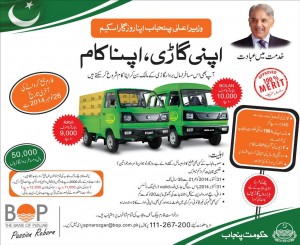 BOP & CM Punjab Apna Rozgar Scheme 2nd Lucky Draw Result 2015
Click the link given below this post for viewing the BOP & CM Punjab Apna Rozgar scheme 2nd lucky draw result 2015. We congratulate all the successful candidates and hope that you will work hard try to pay the installments in time so that Apna Rozgar scheme may continue in future too. If your name is not included in the list then do not lose heart as may you will be given better opportunity in future by Almighty Allah. Successful candidates are directed to contact that branch of Bank of Punjab, where they had submitted their applications. You will lose this golden opportunity in case of not depositing the down payment in time. So do not waste even a second and rush towards your concern branch of Bank of Punjab for completing the further process. Visit studysolutions.pk and its facebook page frequently for latest updates about different schemes of provincial and federal governments.
Click Here To View The BOP & Chief Minister Punjab Apna Rozgar Scheme 2nd Lucky Draw Result 2015