T10 Cricket League 2017, Rules, Schedule, Players, Format, Live Matches & Facts in Urdu & English 
Game of cricket has become very fast after introduction of oneday cricket. T20 cricket has become the most popular form of cricket. Still sports critics are emphasizing that there is a need of more fast form of cricket so that it may be included in olyampics. T10 cricket is a new idea in this regard. This year first ever T10 cricket league is going to be held in UAE from 14th of December. T10 cricket league 2017 will continue from 14 to 17 December, 2017. ICC and India are opposing idea of T10 cricket league, that's why just one cricketer from India is taking part in T10 cricket league 2017. India was also opposing T20 criket few years back, but IPL has become an icon of India. Hopefully soon ICC will recognize T10 cricket format as it is the future of this sports.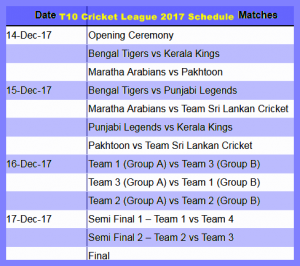 Important Information About T10 Cricket League 2017
1-Every bowler can bowl just 2 overs.
2-Match will be completed in 90 minutes.
3-Total six teams are taking part in T10 cricket league 2017.
4-Shahid Afridi, Eoin Morgan, Misbah ul Haq, Virender Sehwag, Shoaib Malik, Sarfaraz Ahmad and Dinesh Chandim are key players in this T10 cricket league 2017.
5-From Pakistan Misbah ul Haq, Abdul Razzaq, Umar Akmal, M Amir, Ammad Waseem, Suhail Tanveer, Suhail Khan Kamran Akmal, Shoaib Malik, Sarfaraz Ahmad, Roman Rais, M Nawaz, Wahab Riaz, M Irfan, Ahmad, Shahzad, Faheem Ashraf, Fakhar Zaman, Hasan Ali, Junaid Khan, Ahmad Shahzad, Faheem Ashraf, M Sami, Umar Gul, Hasan Khan, Osama Meer, and Anwar ali are also representing differnt teams.
6-Six Teams has been divided into group A and group B as follows;
Group A-Bengal Tigers, Kerala Kings, Punjabi Legends
Group B-Maratha Arabians, Colombo Lions, Pakhtoons Squad
Geo Super and 10 sports will broadcast the matches live in Pakistan. T10 cricket league 2017 schedule and details in Urdu has been given below.
T10 Cricket League 2017 Schedule, Format, Live Matches & Facts