Moblink Jazz Internet Packages (4G LTE) 2018 Daily Weekly, Fortnightly & Monthly
Mobilink Jazz initially won the 3G license in an open auction in 2014. In the same auction Zong won the 4G LTE license. Later on with the negotiation with PTA Warid was also given the same license. Now Telenor has also bought 4G LTE license. Due to cut throat competition in Pakistani mobile network market now Warid has decided to sale its company to Mobilink. Within couple of months Mobilink will officially take the charge of Warid. It is expected that soon Mobilink will launch its 4G LTE service too on the basis of Warid's license.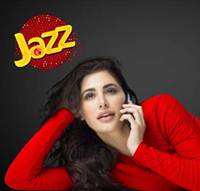 Mobilink Jazz 4G LTE Packages 2018 With Prices & Activation Details
Mobilink Jazz 4G LTE packages 2018 will be announced after the official merger of Warid into Mobilink. We are sure that Jazz will give a tough competition to Telenor and Zong in the field of 4G LTE service in Pakistan by offering very affordable Mobilink Jazz 4G LTE packages 2018. Jazz has an history of offering free trial offer before launching any new service, hopefully this time too this tradition will be followed. Warid has a vast coverage area and with adding the infrastructure of Warid now Jazz will be able to provide it services all over the Pakistan. Pakistani market king is going to become a great giant very soon. Telenor had realized this threat that's why it has invested 395 million dollars for buying the 4G LTE license to compete the jazz and save its market share. We are not sure about exact date for the announcement of Mobilink Jazz 4G LTE packages 2018, but as soon as company will make any announcement in this regard,we shall inform your through this page.
You can also view Telenor, Warid and Zong 4G LTE packages 2018 on our website. Visit studysolutions.pk and its social page for latest alerts about new call,sms and Internet packages of all mobile phone service provider companies of Pakistan.
Mobilink Jazz 4G LTE Packages 2018
Jazz 4G Internet Packages 2018 For Wifi Device & Wingle